How many wild boars are there in Israel?
Dan Malkinson - Department of Geography and Environmental Studies
Ilan Shimshoni, and Ofer Arazy - Department of Information Systems
Yuval Nov - Department of Statistcs
 Machine Learning
Deep learning
Neural Networks

Healthy communities rely on well-functioning ecosystems, and population estimates for flora and fauna are important indicators for the functioning of these systems. Still, for most species in Israel, no such population estimates exist, making it difficult to assess how natural and human-induced perturbations impact ecosystems. 
For Prof. Dan Malkinson, Dept. of Geography and Environmental Studies, Prof. Ilan Shimshoni, Dept. of Information Systems, Dr. Yuval Nov, Dept. of Statistics, Prof. Ofer Arazy, Dept. of Information Systems, this means developing novel techniques for estimating species populations, relying on advanced artificial intelligence (AI) and statistical methods.
To kick-start the project, we organized and held during July 2021 an international workshop in Haifa. The 90 participants included scientists and stakeholders from various universities, government institutions, and nature conservation agencies.
We are currently working to develop machine learning methods for identifying individual animals from images and videos, which were collected from trap cameras in several locations in northern Israel. We use wild boars as a case study. This component of the research is led by Prof. Shimshoni and his students: MSc. students Lior Koren and Khaled Awad, which are developing the AI methodologies to analyze these images, and identify behavior of individual animals.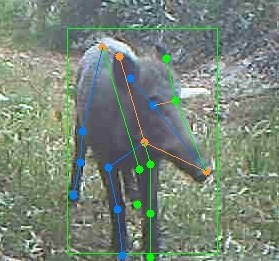 Moreover, we aim to advance the state-of-the-art by including humans in the process, so as to improve the results of the AI recognition. This piece of the research is led by Prof. Arazy, Dr. Yiftach Nagar (a Research Associate) and MSc student Ayala Granat (developing the human computation system). 
In addition, our team led by Prof. Dan Malkinson and Prof. Arazy are working to gain a better understanding of observer-based biases in unsystematic nature monitoring. For example, in platforms such as iNaturalist and eBird, some observers prefer to report on subsets of species, such as mammals, flowers or birds; similarly, some observers tend to report during the winter time, and others during spring and autumn. MSc. student Maria Nitzberg is conducting her thesis research on analyzing observers' preferences and biases and MSc. student Lihi Cohen develops a new approach for understanding observer behavior in the field, using virtual reality tools.
Lastly, our team led by Dr. Yuval Nov and Prof. Dan Malkinson are working to develop statistical methods for correcting observer-based biases in unsystematic nature monitoring.
Preliminary results from our research shed light on the biases that affect observers' reporting decisions. See https://ai4biodiversity.hevra.haifa.ac.il/publications.